Yikes! October is almost gone. We have some catching up to do.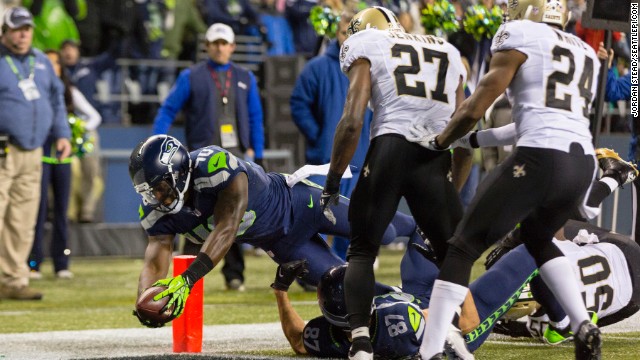 Coleman's first NFL touchdown on Monday Night Football
Happy Belated Birthday to Derrick Coleman (born 10/18/90), Seattle's starting fullback since 2013, and the first deaf player in NFL history.
An undrafted free agent out of UCLA, he is a capable blocker and receiver who also contributes on special teams.
The day after his birthday, Seattle lifted a suspension for his involvement in a vehicular hit-and-run earlier this month. Further discipline is possible depending on the outcome of the official investigation. Seahawks Diehard wishes the victim a swift and complete recovery, and cautiously extends the benefit of the doubt to Coleman until the authorities resolve the matter.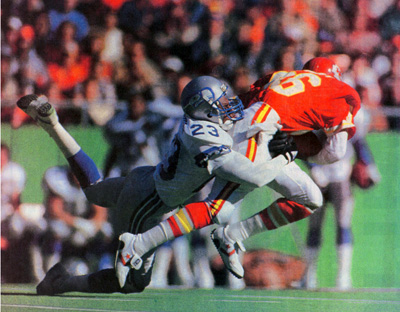 Hunter making a tackle as a rookie in 1986
Happy Belated Birthday also to my man Patrick Hunter (born 10/24/64), a Seahawks defensive back from 1986-1994.
A third-rounder from Nevada, he started at right corner from 1989-93. Hunter was a serviceable starter: a sure tackler, but not a shutdown corner or a turnover generator. On Sunday Night Football in October 1991, he intercepted Jay Schroeder of the Raiders and returned it 32 yards for a touchdown to give Seattle a 17-0 lead. (Unfortunately, Jeff Kemp's terrible quarterbacking that day blew the lead and the Seahawks lost in overtime.)
Hunter finished his career as a teammate of Dave Krieg in Arizona during the Cardinals' ill-fated 1995 campaign.
Daniels making Raiders reserves look silly in preseason
HBB to my man Seattle Slash--BJ Daniels (born 10/24/89)--a backup quarterback/wideout/kick returner/kick coverage man for Seattle since 2013.
San Francisco spent a 7th-round pick on this intriguing prospect from South Florida that year, but the Seahawks soon snatched him from their practice squad.
Ever since, Daniels has bounced back and forth between our active roster and our practice squad. Having cleared waivers again last week, he is currently on the practice squad. Last offseason, Daniels added wide receiver and special teams duties to his portfolio, but he still looked great running the offense in the last preseason game, despite not having had any reps under center for months. Let's not squander his athletic potential the way we failed to capitalize on Seneca Wallace's.
John Williams scores as a Panther in 1984
HBB to my man John Williams (born 10/26/60).
No, not the movie music composer.
Not the versatile 21st-century CFL running back, either.
And not John L. Williams, the longtime Seahawk and Pro Bowl fullback.
No, I mean John A. Williams, a Seattle running back from 1985-86. A Wisconsin product, he played as a reserve in the USFL from 1983-84 for the Michigan Panthers and in spring 1985 for the Oakland Invaders. When the USFL folded, Williams caught on in the NFL as a backup running back and kickoff returner for the Cowboys.
Seattle somehow acquired him that November. On December 1, 1985, he carried the ball once for two yards, his modest contribution to a 24-6 obliteration of the Chiefs in the Kingdome. It was also the only touch of his short career in Seattle. He returned for training camp in 1986. That preseason, Seattle fans struggled initially to distinguish between running back John A. Williams and rookie fullback John L. Williams, but the cutting of the former and the astonishing badassitude of the latter soon definitively clarified matters.
The Saints promptly picked up John Alan Williams, but he played little and 1986 was his last season in the league.
Kasay kicking with his customary accuracy in 1991
HBB to my man John Kasay (born 10/27/69), Seattle's placekicker from 1991-94.
Most Seahawks fans scratched their heads when the team spent a fourth-round pick on Kasay when we already had a beloved Pro Bowl kicker in Norm Johnson, AKA Mr. Automatic. In retrospect, it is clear that this was part of new owner Ken Behring's calculated dismantling of the team (also jettisoned: Dave Krieg & Chuck Knox), but the franchise called it competition and, despite a great training camp by the incumbent, declared the equally impressive newcomer as the winner.
Although Seattle fans were sorry to see Mr. Automatic go, we could not complain about Kasay's performance. He never made the Pro Bowl as a Seahawks, but he proved statistically superior as Seattle's kicker, and had a particular knack for long-shot 50+ yard field goals. However, the team's overall performance in those years was pretty poor, so he never won hearts the way Johnson had.
In 1995, Kasay became a charter member of the expansion Carolina Panthers and remained with the team through 2010. He interrupted his retirement to help the Saints through 2011.
Richard Sherman & Earl Thomas III appreciating Coach Kris Richard during Super Bowl XLIX
HBB to my man Kris Richard (born 10/29/79), a reserve cornerback from 2002-04 and a defensive coach since 2012.
After playing for Pete Carroll at USC, Richard was a third-round bust--one of many underwhelming picks that helped Mike Holmgren lose the GM gig. Richard barely played as a rookie, aside from returning a few punts. In 2003, his sole career start came in Cincinnati, a narrow loss in which our secondary surrendered two touchdowns to Jon Kitna. Later that season, Richard recorded his sole career highlight, a corner blitz to sack Kelly Holcomb in a rousing home blowout of the Browns. Richard played even less in San Francisco from 2005-06 and failed to make the cut with Oakland in 2007. However, in 2008, he found his real calling as an assistant to Pete Carroll at USC. From 2012-14, he joined Carroll in Seattle, where Richard helped build the Legion of Boom and win two conference championships and one Super Bowl. This year, he has had a tougher time as defensive coordinator, with the Seahawks falling to 2-4 by blowing several fourth-quarter leads, but his unit's impressive performance in Santa Clara offers some hope that the Legion of Boom might have found their sea legs now. Moffitt as a rookie blocking for Beast Mode
HBB to John Moffitt (born 10/29/86), an offensive guard for Seattle from 2011-12.
A third-round pick out of Wisconsin in 2011, Moffitt started nine games as a rookie until a knee injury sidelined him. While hurt, he lost four game checks for using performance-enhancing drugs.
He began 2012 on the bench, but Seattle went 7-1 in the six regular season and two playoff games he started.
Moffitt blocks well on the run, but is suspect in pass protection. That is to say, he would fit right in on Seattle's current O-Line.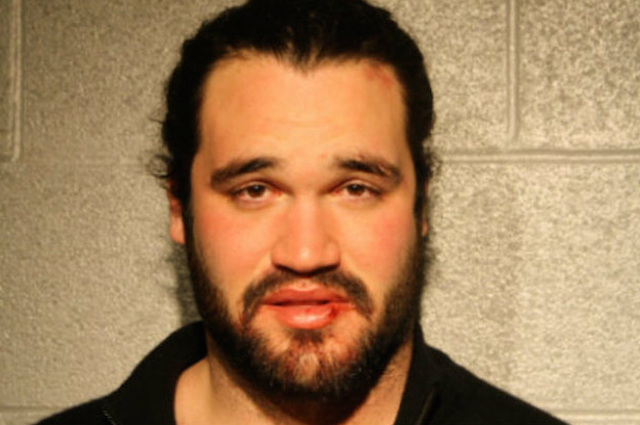 Photo credit: Chicago Police Department
But the Seahawks traded Moffitt to Denver in 2013, both because he failed to distinguish himself on the field and because getting drunk, urinating on other people's cars and getting banned from East Side malls reflected poorly on the organization.
He played in only two games for Denver before quitting in mid-season, claiming that he no longer wished to sacrifice his health for football and saying he did not care that he had blown a chance to play in a Super Bowl. His articulate critique of football as a cynical blood sport attracted national media attention from
NPR
and
ESPN
.
However, in March of 2014, Moffitt hit rock bottom, getting arrested for punching a guy who confronted him for dealing weed, coke and Ecstacy at a Chicago nightclub. In rehab, he rediscovered his love for football and mounted a comeback in Philadelphia, but he failed to make the final cut. The Diehard wishes Moffitt the best.
Clemons sacked Rogers again & again & again & again
HBB to my man Chris Clemons (born 10/30/81), a Seahawks defensive end from 2010-13. This undrafted and unheralded journeyman had bounced around the NFL and logged only three starts from 2003-09, but Pete Carroll and John Schneider saw something in him. They took him from Philadelphia's bench and made him a starter in Seattle. The speed pass rusher responded by racking up 54 sacks in four seasons and contributing to the team's victory in Super Bowl XLVIII. His finest moment? In 2012, Clemons won NFC Defensive Player of the Week honors for sacking Aaron Rodgers four times in the second quarter of the glorious so-called Fail Mary game on Monday Night Football. He followed Gus Bradley to Jacksonville and continues to start for the Jaguars.
Obomanu doing some special teams dirty work
Last, but not least, HBB to my man Ben Obomanu (b. 10/30/83), a Seahawk stalwart from 2006-12. GM Tim Ruskell took a flyer on the Auburn Tiger in the 7th round in 2006. Relegated to the practice squad as a rookie, he joined the active roster in 2007 and began contributing as a backup wideout, special teams cover man and occasional kick returner in 2007 and 2009. He missed the entire 2008 season after breaking his collarbone in preseason.
In November of 2010, Obomanu broke into the starting lineup opposite Mike Williams, not because he was that good, but because our receiving corps was that bad, and because his tenacity blocking outside and down the field endeared him to Pete Carroll.
Still, Obomanu had his moments. In a loss to the Chiefs, Matt Hasselbeck completed five passes to him for 169 yards, including a memorable 72-yard scoring bomb.
Clipboard Jesus threw 4 to Obomanu for 107 yards in 2011
The receiver played a key role in Seattle's improbable 2010 division title and Wild Card win over the defending champion Saints. On the Beast Quake, Obomanu went in motion and stuck his block on Pro Bowl strong safety Roman Harper, helping to create the hole through which Marshawn Lynch ran.
He continued to start sporadically during the dismal 2011 season. That year, Charlie Whitehurst helped him log the second and final 100-yard receiving day of his career in a loss to Cincinnati.
He concluded his career as a reserve for the New York Jets in 2012-13. Early in the 2013 campaign, he tempted fate by becoming the first player to don #15 after Tim Tebow; Obomanu got cut shortly thereafter. He recently enrolled in law school at the University of Alabama.