Coach Carroll counsels backup quarterback Trevone Boykin last week against Dallas (Photo Credit: TNB)
How is the Seattle's roster like Siegfried?
No, not the Vegas entertainer whose partner got mauled by a tiger. I'm talking about the tragic hero of Wagnerian opera.
In Germanic legend, Siegfried slew a dragon and bathed in its blood to become invincible. Unfortunately, a leaf fell on his back and stuck there, so that one spot--right behind his heart--remained unprotected. His wife Kriemhild helpfully stitched a yellow cross on the back of Siegfried's shirt to mark the point of vulnerability--ostensibly to help his comrades shield him, but in fact to facilitate his assassination.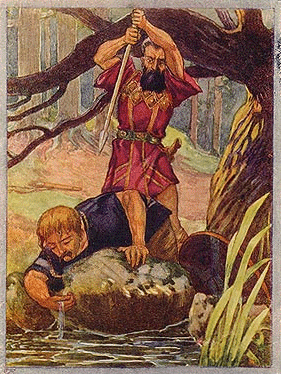 Coach Pete Carroll and GM John Schneider have sewn a similarly glaring weakness into the fabric of the Seahawk roster.
If Russell Wilson were to suffer a serious injury, then Seattle's season would be finished. Having lost the security blanket of Tarvaris Jackson, the team has settled on rookie free agent Trevone Boykin as its backup quarterback. A Horned Frog from Texas Christian University of the Big 12, he got drunk and punched a cop two days before last year's Alamo Bowl, thus blowing his chance to play in the biggest game of his life to date, while also convincing NFL teams not to risk a draft pick on him.
Boykin failed to impress during the preseason. He runs well, but his errant throws and questionable decisions should relegate him to remedial work on the practice squad. While DangeRuss has proven remarkably durable to date--he's never missed a practice or a game as a Seahawk--betting the season on that run of luck continuing indefinitely is simply foolish.
There are many better options. Let us begin with several quarterbacks who already know the Seahawk offense.
BJ Daniels, Seattle's once (and future?) backup quarterback (Photo Credit: CST)
Chicago just cut
BJ Daniels
. He served as Seattle's third-string quarterback and sometime wideout and kick returner from 2013-15. During the 2015 preseason, he executed the offense even better than Tarvaris Jackson did. Late in the season, the Seahawks tried to stash him on the practice squad, but Houston stole him to add quarterback depth. During the offseason, he tried to catch on first with the New York Giants and then with the Bears as a receiver and returner. That versatility certainly increases his utility for Seattle (fragile reserve corner Tharold Simon is our backup kick returner?!?!?), but it presumably would not take long for Daniels to knock off the rust and supersede Boykin as our best backup option under center.
T-Jack's mug shot (Photo Credit: P-I)
The Seahawks could roll the dice again on longtime backup
Tarvaris Jackson
, Presumably, he would owe a suspension of several games for getting drunk and pulling a gun on his wife, Given that he cited poverty to request a public defender for his criminal case, he seems so financially desperate that he would probably play for the veteran minimum salary. Employment could restore some semblance of structure to his life and help him recover from his demons and become a better husband and father.
Two other former Seahawk backups--
Clipboard Jesus
(Charlie Whitehurst) and
Matt Flynn
--remain available. Neither can credibly replicate the running dimension of Seattle's offense, but both of them throw well enough. Christ of Clemson and his pop star girlfriend Jewel could double date with DangeRuss and Ciara.
Clipboard Jesus & Jewel (Photo Credit: HW)
Even
Matt Hasselbeck
would be a good option, if he were not poised for stardom as an ESPN analyst.
Having exhausted the ranks of former Seahawks, we can contemplate quarterbacks with skill sets well-suited to the Seattle offense.
As I have suggested before
, the team should consider coaxing local hero
Jake Locker
out of retirement. Injuries marred his stint in Tennessee, but being Seattle's backup would give him an opportunity to finish his career with dignity.
Mike Vick
looked dismal with Pittsburgh last year, but may be worth a tryout to see if he's a better fit in Seattle's offense.
Of course, there's always
Tim Tebow
.
I mention him only to see if it attracts additional traffic to my website, and for the opportunity to troll him: Tebow reminds me of
Michael Sam
: both of them achieved more fame as cultural icons than their athletic achievements justified, and both lost my respect when they refused to pay their dues in the Canadian Football League, If they really loved the game, then they should have followed
Joe Theismann
,
Warren Moon
,
Doug Flutie
,
Brandon Browner
and other unconventional athletes who proved their detractors wrong by dominating the CFL and earning another shot in the NFL. Tebow's recent decision to try out for pro baseball seems particularly quixotic. Even if he makes it, how would playing his next-best sport for chump change in the minors be better than pursuing his true calling in the CFL?
Finally, there's
Johnny Football
. Sorry. Kidding again. Obviously,
Manziel
is kryptonite cancer dumpster fire train wreck.