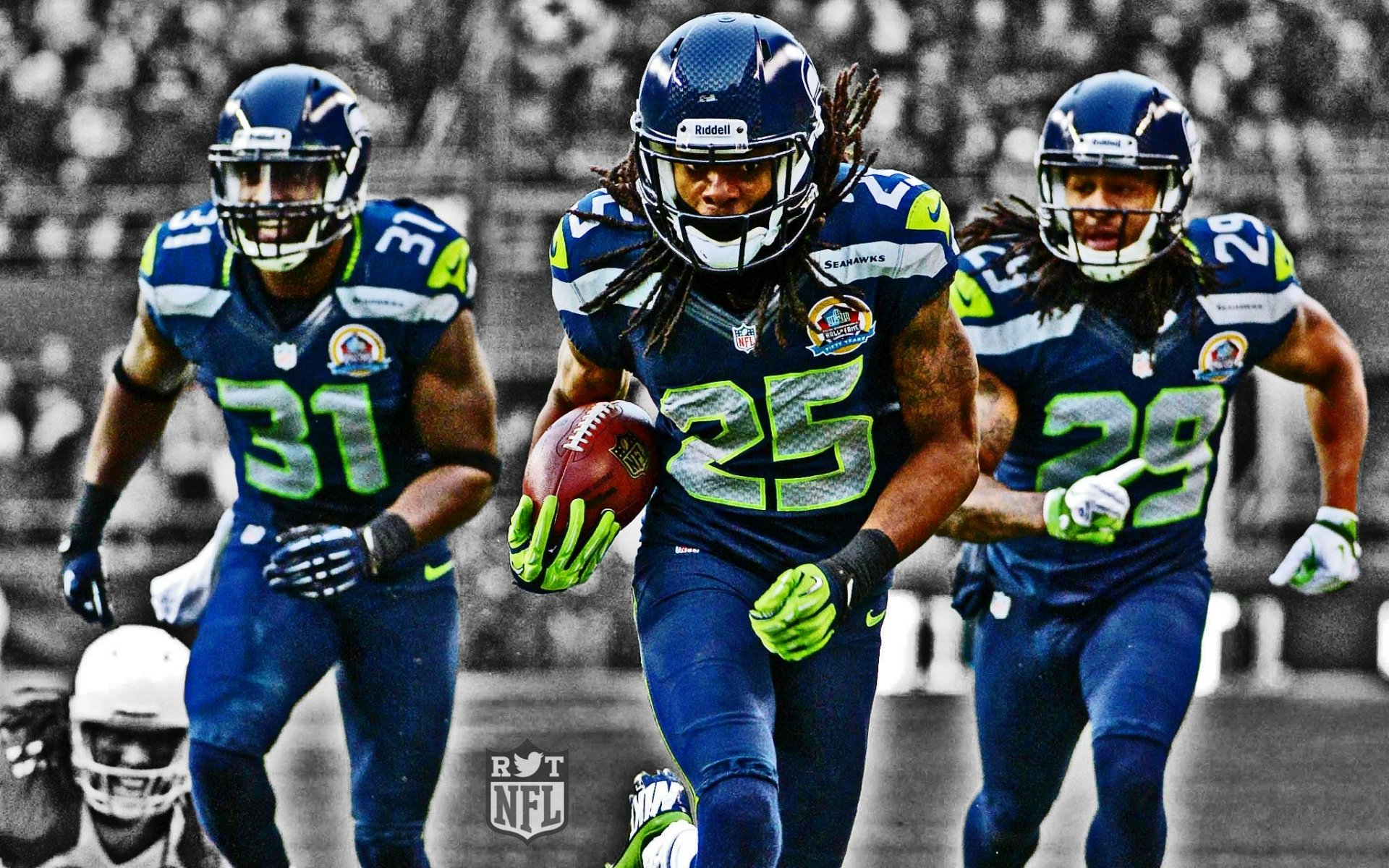 Seattle's Legion of Boom: Ajax, Achilles & Odysseus (Credit: AC)
Despair has spread across Hawkdom, for many good reasons:
1. In the second quarter of that pyhrric victory over Arizona, the Legion of Boom lost its Achilles. With apt poetic injustice, a heel injury felled our team's best player. Like the nigh-invincible warrior of Homeric myth, Richard Sherman dominated the left half of Seattle's defense over the course of an epic 99-game starting streak. Early on, opposing offenses quickly learned not to throw Sherm's way; quarterbacks who dared test him usually came to regret their hubris. After establishing himself early on as a true shutdown cornerback, the Seahawks' Achilles continued to hone his craft, showing increasing skill as a sure tackler and fearless run defender. Losing Sherman for the year now exposes Seattle's defensive left side to unprecedented aerial attack.
2. Late in the same game, the Legion of Boom also lost its Ajax. Before it became associated with cleaning products and programming acronyms, that name denoted the next mightiest Greek warrior (after Achilles) in the seige of Troy. Just as the mythical Ajax outlived Achilles, Kam Chancellor helped ensure Arizona's defeat before exiting late with a neck injury that may sideline him for the season. Like his ancient Greek analog, Bam Bam is a basically a brute. Like most strong safeties, he plays decent pass defense, but in Seattle's scheme, he functions more as a fourth linebacker, moving up as the eighth man in the box to punish opposing runners. The loss of Chancellor invites future foes to test Seattle's ground defenses.
3. After Achilles and Ajax went down, it fell to the wily Odysseus to engineer Troy's defeat. Earl Thomas III is the best (and wiliest) free safety in the game. His speed is key to his signature Trojan Horse gambit: lulling opposing quarterbacks into believing a receiver is open in the middle of the field, and then closing the seemingly impossible distance once the ball is in the air. However, an ailing hamstring kept Thomas from playing against Washington or Arizona. He appears set to play Monday night, but a still-tender hammy may limit his range and his ability--as the original Legion's last standing member--to compensate for the youth and inexperience of his peers in the defensive secondary.
4. Attrition has thinned Seattle's ranks elsewhere on the defense. Starting linebacker Michael Wilhoite and run-stuffing defensive tackle Jarran Reed may miss this week's game.
5. Pete Carroll's aggressive defenses often rank among the league's most-penalized, but this year has been worse than most--
by far
. Culprits include player indiscipline, sloppy coaching, and reputation-influenced officiating. In the last game, wearing eye-aching neon lime uniforms against black-clad foes may have exacerbated the referees' long-established tendency to notice Seattle's sins more than those of our opponents.
6. Our O-Line remains inadequate and penalty-prone. Recent All-Pro pickup Duane Brown plays well when healthy, but the ankle he sprained in Arizona may keep the left tackle off the field Monday. Center Justin Britt remains solid, but the rest of our linemen draw false starts and holding penalties more reliably than they protect the quarterback or open up running lanes.
7. We still miss Beast Mode. Since the departure of Marshawn Lynch, no other running back has managed to remain healthy while replicating #24's uncanny ability to plunge into a gap-plugged wall of defenders and burrow forward for positive yardage, anyway.
8. For lack of help, the normally sensible Russell Wilson is increasingly pushing his luck by throwing at well-covered receivers. DangeRuss has averaged one interception per game since Tennessee, but he has made more ill-considered throws in recent weeks, avoiding greater damage only through the ineptitude of butterfingered defenders. Still, if #3 continues to press, surer-handed opponents will surely make him pay.
9. Our entire offense is predicated on Wilson's unique set of skills; if he gets hurt, the season is over.
10. Offensive coordinator Darrell Bevell remains unimaginative, especially early in games. Seattle seldom scores in the first quarter, partly because defenses correctly anticipate Bevell's utterly predictable playcalling. Later in the game, Bevell generally gets a feel for the defense and finds his mojo, but this too often proves too little, too late. Instead of falling behind early, Seattle should hire someone like Mike Holmgren to script our first fifteen offensive plays to give us a chance to keep up or even take a lead early in games.
11. We can't trust Blair Walsh, who single-footedly blew an otherwise winnable Washington game by botching three eminently makeable field goals. Seahawk fans simply can't process this, having long been spoiled by an improbable series of clutch and superclutch kickers, from Norm Johnson (1982-90) to John Kasay (1991-94), Todd Peterson (1995-99), Rian Lindell (2000-02), Josh Brown (2003-07), Olindo Mare (2008-10), and Steve Hauschka (2011-16). Our last suspect kicker was Efren Herrera (1978-81), and he made up for his somewhat unreliable leg by being adorable, Mexican, and
an occasional offensive threat
. Walsh, however, wore out his welcome in Minnesota by choking at the least convenient times, and threatens to do the same here. He did fine against Arizona, but it will take years of clutchness to diffuse the PTSD-inducing stench of that unforgiveable home loss to Washington.
12. Currently the #6 seed in the conference, the Seahawks (6-3) lag a game behind the Rams in the chase for the NFC West title. In the quest for home-field advantage and a first-round bye, Seattle trails not just the Eagles (8-1), but also the Rams, Saints, and Vikings (all 7-2), plus the Panthers (7-3). With four 5-4 four teams nipping at our heels (Atlanta, Dallas, Detroit, and Green Bay), Seattle will have to fight hard just to remain eligible for the postseason.
Amid this litany of despair, is there cause for hope? Yes. Here's why:
1. Though diminished, the secondary should remain decent. Carroll has long history of eliciting strong play from new and young defensive backs, as evinced by the emergence of rookie corner Shaquille Griffin. While no one can truly replace Richard Sherman, our cornerback corps has benefited from the unexpected retention of Jeremy Lane and the welcome return of Legion alumnus Byron Maxwell. DeShawn Shead's recovery from injury has reportedly plateaued, but if he can make it back, he can play safety or corner. In the meantime, having filled in ably for Thomas at free safety, veteran Bradley McDougald will slide over to play strong safety in lieu of Chancellor.
2. Stout run defense and a strong pass rush can compensate for a weaker secondary; fortunately, our D-Line is deeper than Puget Sound. Losing Pro Bowl defensive end Cliff Avril should have degraded the unit, but Frank Clark has stepped up his game, new recruit Dwight Freeney appears ageless, and All-Pro Michael Bennett remains relentless. Dion Jordan--just returned from injury and rock bottom on the depth chart--made a case for more playing time with a
bull rush sack for the ages
, reminding everyone why Miami made him the #3 pick in the 2013 draft. On the inside, Pro Bowl tackle Sheldon Richardson and reserves Nazair Jones and Garrison Smith should be able to hold down the fort until Jarran Reed recovers.
3. When Duane Brown and Luke Joeckel return to action (within a week or two), Seattle should have its best leftside O-Line since Super Bowl XL, when two Hall of Famers (Walter Jones and Steve Hutchinson) lined up beside Pro Bowler Robbie Tobeck. This should mean better quarterback protection and more room for our runners.
4. Russell Wilson reliably learns from his mistakes. He will likely stop throwing into coverage.
5. If DangeRuss were felled by injury, then Seattle could still salvage the season and profit from the league's folly by signing Colin Kaepernick to augment Austin Davis.
6. Seattle still controls its own destiny in the NFC West. If the Seahawks can stay within one game of the Rams, then we can win the division by completing a season sweep when Los Angeles comes to Seattle next month.
7. Seattle also controls its own destiny in the conference--to a point. Some of the top six teams benefited from fairly soft early schedules, but all six face several tough games late in the season. For example, Seattle will host Atlanta, Philadelphia and Los Angeles, but must visit Dallas and 6-3 Jacksonville. The Seahawks could rise as high as the second seed by winning out, but would need additional help to wrest pole position from the 8-1 Eagles.
The Greeks could not have felt sanguine about taking Troy after losing Achilles and Ajax in swift succession. Nevertheless, their ranks proved deep with talent, and Odysseus showed that what really matters is how you finish. Seattle fans must hope for a similar outcome.