Coach Chuck Knox confers on the sideline with quarterback Dave Krieg, c. 1989 (Credit: Bellingham Herald)
An old-school badass, Coach Knox seized the reins in Seattle in 1983 and wasted no time remaking the team in his winning image: a smashmouth, run-first offense, coupled with a bruising, larcenous defensive juggernaut.
Ground Chuck's journeymen run-blockers paved the way for halfback Curt Warner, whose ankle-busting cuts froze and frustrated hapless defenders. To compensate for an offensive line far less adept at pass blocking, Knox boldly benched fan favorite Jim Zorn in favor of
backup quarterback
Dave Krieg, an uncanny gamer who remained reviled by ungrateful Seahawks fans despite a consistent knack for winning, vastly superior chemistry with Steve Largent, and Hall of Fame-caliber statistics that clearly establish him
as one of the finest passers of '80s
.
On defense, Knox knew how to stuff the run, pressure passers, and force turnovers. In his 3-4 scheme, All-Pro nose tackle Joe Nash wrecked the middle while linebackers knifed through for the kill. A long, tall Texan--the All-Pro sackmaster, defensive end Jacob Green--sped in to haul quarterbacks to the turf, force fumbles, and even grab an occasional interception. How fast was Green? In 1983, he finished Cleveland by picking off a Brian Sipe pass and sprinting for a 73-yard touchdown. In 1985, #79 scooped up a fumble and ran for a 79-yard score.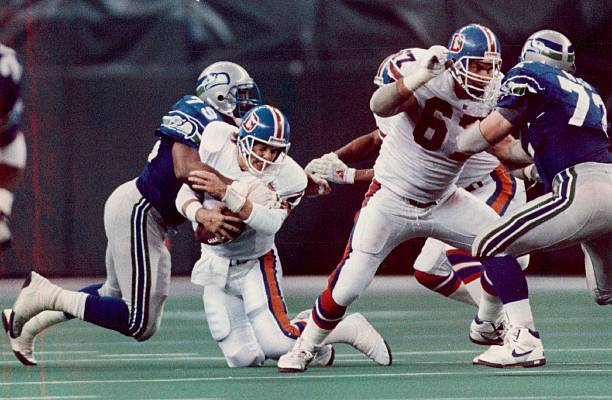 A Denver defender peels away from double-teaming nose tackle Joe Nash (#72) too late to save quarterback John Elway from getting sacked by defensive end Jacob Green (#79); Seattle won this 1991 game, 13-10 (Credit: Getty)
Knox's secondary lacked a catchy nickname, but it hit as hard as hard as the Legion of Boom--and grabbed far more interceptions. All-Pro strong safety Kenny Easley hit like Kam Chancellor, nabbed picks like Earl Thomas, and
returned punts as well as Golden Tate
. Though decent before Ground Chuck came to town, Dave Brown blossomed into an All-Pro shutdown corner under Knox.
Knox made Seattle a winner and took the Seahawks to the playoffs several times. Critics blamed the coach's conservatism for limited success in the playoffs, and there is something to that, but Knox proved more resourceful than his detractors remember.
No prisoner to philosophy, Coach did what he needed to do to win. In 1984, after Seattle lost star running back Curt Warner to injury in Week One, he adapted by wisely ditching Ground Chuck and adopting an Air Knox offense. The team rallied around Krieg, who rose to the occasion and posted Dan Fouts-like numbers. In the playoffs against the Raiders--who had eliminated Seattle the previous year en route to a Super Bowl win--Knox confounded the Raider defense by reverting to Ground Chuck and running the ball right at All-Pro defensive end Howie Long. Backup fullback Dan Doornink carried the ball 29 times for 126 yards, and the Seahawks won, 13-7, eliminating the defending Super Bowl champions from the postseason. Long curses Doornink's name to this day, but he should blame Knox.
Backup fullback Dan Doornink (#33) runs over a Raider defender in January 1984 (Credit: Seahawks)
Unfortunately for Knox, a series of poor personnel decisions by the team's front office squandered draft picks and diluted the team's talent. Coach kept the team competitive, but still got blamed for the team's lack of progress. Matters grew worse when Ken Behring bought the team, fired Knox, and intentionally wrecked it to justify a move to Anaheim. It took more than a decade for the team to recover fully from Behring's vandalism.
Knox had won NFL Coach of the Year honors with the LA Rams & the Bills before earning the award a third time in Seattle. After leaving the Seahawks, he returned to Los Angeles to coach the Rams. He inherited a terrible team and failed to improve it much. After three seasons, the erratic owner fired Knox and moved the franchise to St. Louis.
Coach's mind began fading into the fog of dementia a few years ago, but Seahawk Diehards of a certain vintage will always remember Knox for making Seattle a winner and engineering the team's first Silver Age.
Coach gets carried away by guard Reggie McKenzie (#67)--who came with Knox from Buffalo to Seattle--and other Seahawks in celebration of Seattle's 27-20 win over Miami in January 1984 (Credit: Seattle Times)