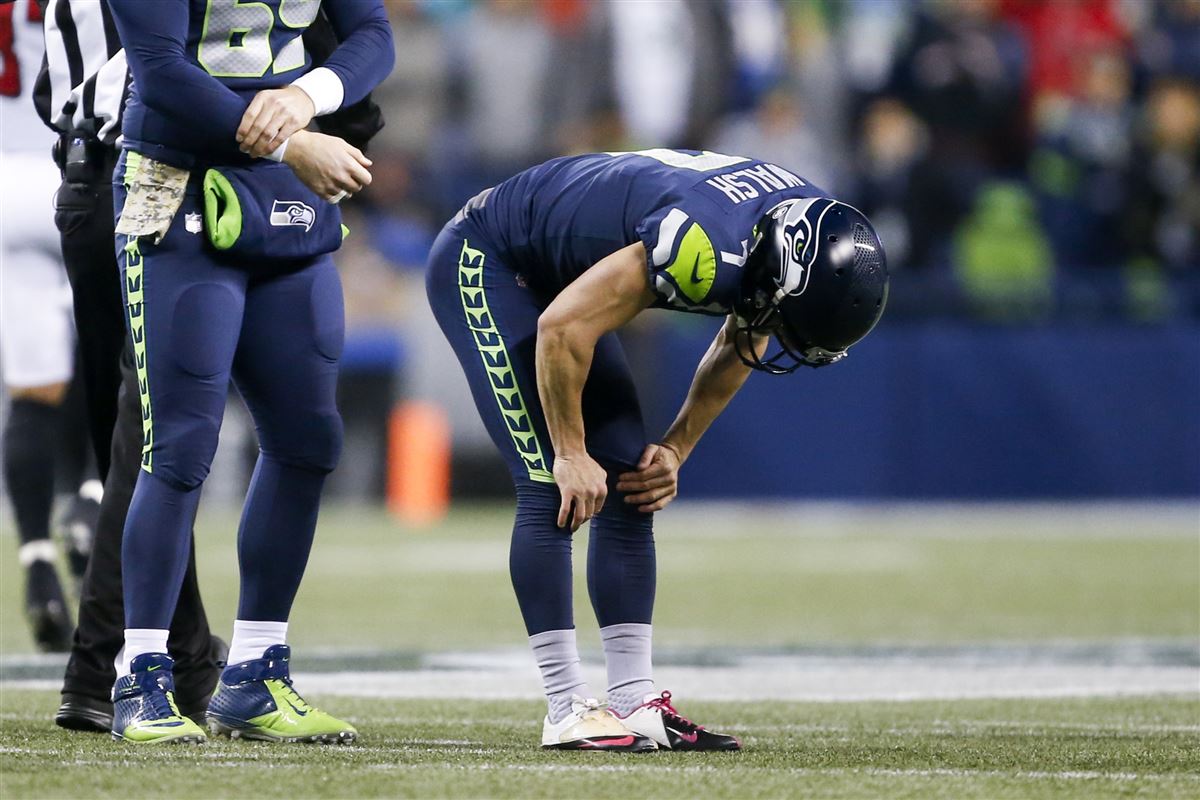 Choke Machine #7 strikes out again (Source: 24/7 Sports)
Blair Walsh did not blow the game yesterday.
Seahawk coaches should know by now not to bet games on the erratic kicker's foot.
Seattle's final drive began on their own 25-yard line with 2:18 remaining. Always clutch in the 4th quarter, Russell Wilson promptly completed two 20+ yard passes to Doug Baldwin and Jimmy Graham.This gave the Seahawks 1st down on the Arizona 31 at the 2:00 warning--plenty of time to continue the drive.
Instead, Seattle coaches reverted to inexplicable conservatism: A vanilla handoff netted just one yard on first down. After an incomplete pass on second down, the Seahawks basically surrendered, first by calling another lackluster handoff on third down (no gain), and then again by inserting Walsh to attempt a 48-yard field goal.
Scoring from that distance is far from automatic even for the league's best legs. But for a subpar placekicker like Choke Machine #7, 48 yards might as well be 48 miles. This is the guy who almost single-footedly blew the Washington game by missing attempts from 44, 39, and 49 yards--forfeiting 9 points in a game Seattle ultimately lost by a mere 3-point margin. And, yes, this is also the guy who--when he played for Minnesota--averted a Viking victory over the Seahawks in the playoffs by shanking a 27-yard try.
Why, then, would the coaches ask the Shankmeister to go out win this one?
Why, when DangeRuss is by far the league's best 4th-quarter passer, and is also by far the team's leading rusher, would coaches take the ball out of his hands on 3 out of 4 downs on that final series?
Of course, beating the Cardinals would not have won Seattle entry to the playoffs. That close loss to Atlanta back in November gave the Falcons an enduring wing up on the Seahawks in the wild card chase.
Still, losing to Arizona was a big deal. 10-6 would have looked and felt a lot better than 9-7 does.
But 9-7 still feels pretty good.
Longtime Seahawk fans who suffered through the '70s and '90s know not to take any winning season for granted.
If we have grown so accustomed to winning 10+ games and making the playoffs that 9-7 feels like failure, then that attests to the greatness of Coach Pete Carroll, GM John Schneider, and the teams they have built. During their 8-year tenure, Seattle has averaged 9.9 regular season wins per year, earned 6 playoff berths, taken the division title 4 times, won 2 conference championships, and garnered 1 Lombardi Trophy. In that span, only the Patriots have done better; thirty other NFL franchises did worse. Most of them did a lot worse.
Coping with an Unprecedented Plague of Injuries
The Seahawks eked out a winning record despite incredible bad luck on the injury front.
Over the summer, the team's top draft pick--defensive tackle Malik McDowell--screwed Seattle by crashing his ATV and sustaining a concussion so severe that he missed the entire season.
Early in the season, serious injuries robbed Seattle of the services of Pro Bowl defensive end Cliff Avril, our best running back (rookie Chris Carson), third-down back CJ Prosise (again), and--after a promising preseason--left tackle George Fant.
In midseason, injuries sidelined two-thirds of the All-Pro Legion of Boom (strong safety Kam Chancellor and All-Pro cornerback Richard Sherman).
Late in the year, injuries temporarily sidelined or severely limited several other defensive stalwarts, including All-Pros Earl Thomas III at free safety and Bobby Wagner at linebacker, starting cornerback Shaq Griffin, and Pro Bowl linebacker KJ Wright.
Injuries also afflicted the offense, sidelining the following for several games: costly free agent left guard Luke Joeckel, utility O-lineman Rees Odhiambo, and running backs Thomas Rawls, Mike Davis, and free-agent bust Eddie Lacy.
If--before the season--someone had asked you to forecast Seattle's record and postseason prospects under these wretched conditions, then you probably would not have guessed that the Seahawks would post a winning record and remain in playoff contention until the season's final week.
How did Seattle manifest surprising competence under such trying circumstances? Primarily through Schneider's inspired personnel moves.
It began in the offseason with the signing of several veteran free agents, including starters Joeckel and linebacker Michael Wilhoite, and safety Bradley McDougald, who subbed in ably for both Thomas and Chancellor for much of the season. Defensive back Justin Coleman contributed as expected on special teams, but also came up big in limited duty on defense, evoking the spirit of Big Play Babs by nabbing two clutch pick sixes.
Solid free agent pickups continued in midseason, with the inspired acquisition of All-Pro left tackle Duane Brown from Houston, and the fortunate but unexpected retention of Jeremy Lane. Initially traded for Brown to the Texans, Lane failed his physical, reverted to Seattle, and recovered to shore up a suddenly injury-wracked Seahawk secondary until Legion of Boom veteran Byron Maxwell returned at a bargain rate to reclaim his starting position.
What Seattle Must Fix
Despite these savvy personnel moves, Seattle's season foundered due to several critical and persistent errors.
1. Too Many Penalties.
With 148 accepted infractions, Seattle did not just lead the NFL in penalties in 2017. The Seahawks drew more flags than any team since 1998, and became the fifth-filthiest team in league history. (The only dirtier teams were the '89 Oilers, the '98 Chiefs, and the Raiders in '94 and '96.)
As I have often observed here
, this has been a chronic problem under Carroll, and the cause of too many penalties is sloppy coaching. To his credit, Coach Carroll owned the problem in his postgame remarks yesterday and took responsibility for fixing it.
2. Offensive Coordinator Darrell Bevell's Terrible Playcalling.
I've written this more times than I can count, but here I go again: Bevell's playcalling--especially early in games--is killing us. The Seahawks failed to score on every opening drive in 2017. The lack of offensive production in the first quarter, the first half, the first three quarters--it causes Seattle to fall behind early, increasing pressure on our defense, and forcing our offense to abandon the run prematurely. Bevell tends to find his mojo sometime in the second half--often not until the fourth quarter--but by then it is often too late. Seattle must either find a new offensive coordinator, or augment Bevell with a starting pitcher--someone who can script or call viable plays in the first 2-3 quarters until Bevell enters in relief to close out the game.
3. Poor Placekicking.
Sadly, the injury-forced in-season personnel moves created a salary cap crunch that made it impossible for Seattle to cut Walsh and pick up a different kicker during the 2017 campaign. Presumably, Walsh's poor performance this year has compromised his market value. Seattle should invite him to training camp for the veteran minimum, and bring in other cheap kickers to compete for the position in training camp.
4. No Home Field Advantage.
The good news was that Seattle posted a 5-3 road record. Sadly, the Seahawks fared worse at home: 4-4. If our team ever intends to see the Super Bowl again, then we need to maintain the level of road success, while reviving the days when opposing teams genuinely feared coming here, when we were nigh unstoppable at home. Last week, Cardinals Coach Bruce Arians taunted Seattle several days before the game by calling Seahawks Stadium Arizona's "home field." Instead of making him pay, our team and fans responded by fulfilling his prophecy and meekly letting him claim one final victory, thus to retire as the winningest coach in the history of that (admittedly dismal) franchise. Pathetic.
Reasons for Hope
1. Russell Wilson remains SuperClutch.
2. The Offensive Line should be better next year.
Center Justin Britt (a Pro Bowl alternate in 2016) remains solid. All-Pro left tackle Duane Brown played pretty well despite being hurt much of the season, and will prove even better next year as he grows more used to blocking for the uniquely mobile DangeRuss. Presumably, right tackle Germain Ifedi may mature, learn to block better, and stop leading the league in false starts and holding. If George Fant recovers from injury and returns to preseason form, then he could claim the right tackle position and bump Ifedi inside to guard. Several other young linemen gained valuable experience this year. If left guard Luke Joeckel wants to stick with the team, then he'll have to take a hefty pay cut; he gutted it out bravely through injury, but his play came nowhere close to justifying his fat $7-8 million salary. Presumably, more affordable upgrades are possible through the draft and free agency. Unit coach Tom Cable should enter 2018 with the best raw material he's ever, and that should mean the best Seattle O-Line since Super Bowl XL.
3. Seattle has enough good backs and receivers.
Lacy proved a certified bust, and should not return. Rawls never really got going, but Carson. Davis, and third-down back JD McKissic all played as well as our O-line allowed. Pro Bowl wideout Doug Baldwin and Pro Bowl returner/receiver Tyler Lockett will need help, as the team could lose Paul Richardson to free agency, and neither Amara Darboh nor Tanner McEvoy appear ready for larger roles. Seattle should let tight end Jimmy Graham go, resign Luke Willson, and seek bargain upgrades to all offensive skill positions through the draft and free agency.
Causes for Concern
1. The NFC West got a lot better this year.
The Rams will remain young, gifted, and well-coached. Arizona and San Francisco both had disappointing years, but finished strong. The Cardinals found their defense, and the 49ers found their quarterback. Winning the division will be harder going forward.
2. Tough personnel decisions loom on defense.
As our defensive nucleus ages, injuries have become more of a factor. Avril and Chancellor may not be able to return. Sherman threatened to leave last year, and the team may be loath to roll the dice on his Achilles recovery. Many key defenders have a year or less remaining on their contracts, including two out of three starting linebackers (Wilhoite & Wright), defensive tackle Sheldon Richardson, and defensive ends Michael Bennett, Frank Clark, and Dion Jordan, and several defensive backs: Thomas, McDougald, Maxwell, Shead, and Coleman.
3. Jon Ryan, probable cap casualty.
The defense's 12th Man--punter Jon Ryan--also needs a new contract. Unless he gets sentimental and settles at a bargain rate, Seattle will compound inconsistent placekicking with uncertainty at the punter position.
Fortunately, Carroll and Schneider have a long-established history of making sensibly coldhearted personnel decisions to retain the best players while finding and developing bargain talent. Seattle should win more games and qualify for the playoffs in 2018.