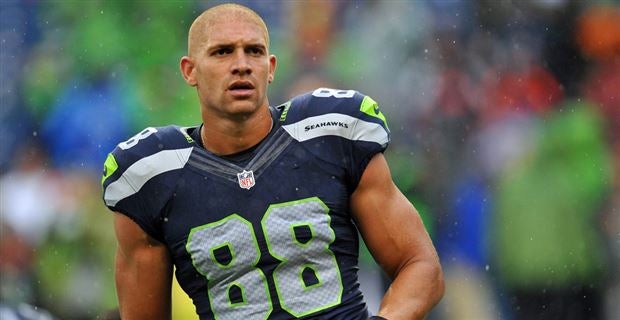 This player should be used almost exclusively for running routes and catching passes
The Seahawks probably won't fly far this postseason, but the team did well to win ten games and secure the NFC's third seed.
Pete Carroll's defense held up pretty well. Bobby Wagner led the league in tackles to secure his reputation as the best linebacker in football. Richard Sherman maintained his All-Pro form. However, injuries sidelined Michael Bennett for several weeks and Earl Thomas indefinitely. After four straight seasons as the NFL's #1 scoring defense, Seattle slipped to a merely excellent #3 in 2016 (behind New England and the Giants).
Special teams suffered primarily due to the team's summertime decision to conserve salary cap space by cutting veteran long snapper Clint Gresham and replacing him with rookie Nolan Frese--a move that contributed to several of Stephen Hauschka's botched extra points and pitifully short field goals. Had we kept Gresham, Seattle probably would have swept Arizona instead of tying the first time and losing the second.
Like many longtime Seattle fans, I believe in investing in the offensive line. (Look what it's done for Dallas!)
However, I refuse to join the chorus condemning Coach Carroll and GM John Schneider for the bargain-rate O-Line they fielded. I understand the underlying economic reality: If you want to keep the league's best defense together, then you have to save money elsewhere. Seattle did the right thing by investing draft picks in the offensive line this year, giving unit coach Tom Cable better raw material than he has had in past years--raw material that will remain under contract at affordable rates for the next 3-4 years. Justin Britt is emerging as a solid center, and the rest of the line shows sporadic promise; I predict they'll be pretty good next year.
An injury epidemic ensured that the offensive line never really had a chance to gel this year. Some of those injuries were on the O-Line, forcing shifts that disrupt chemistry, but a battered backfield created even more chaos. The offense had to change radically early in the season when Russell Wilson was hobbled by a host of hurts, and had to change still more as virtually every running back we fielded succumbed to injury in turn: Thomas Rawls, Christine Michael, CJ Prosise, Troymaine Pope, Will Tukuafu, Thomas Rawls again, etc.! (I did question the decision to cut Christine Michael when he got injured... he seems to be playing well enough for Green Bay. Did his attitude problem come back?)
Russell Wilson played like a champ. He gutted it out through hideous injuries, found ways to survive despite horrid O-Line play, the frequent inability of his receivers to get open, and stupefying play-calling by offensive coordinator Darrell Bevell.
Jimmy Graham's improvement as a blocker on running plays reflects well on his character as a football player and a teammate, but it reflects poorly on Darrell Bevell as an offensive coordinator. We pay Golden Graham the big bucks to catch balls and score touchdowns. If the Ginger Giant can take one or two defenders out of the play just by running a decoy route, then why keep him in to block so much of the time? If you need an extra blocker, use Brandon Williams or Nick Vannett, or throw in a sixth offensive lineman. Reserve Graham (and Luke Willson) primarily for use as receivers.
Seattle continues to dominate the NFC West, having won the division eight times in the last 13 seasons. While the Seahawks struggled to defeat its divisional opponents, the rest of the league had little trouble with our NFC West rivals. We won the division title in large part thanks to Arizona's unexpected implosion, combined with the customary suckitude of the Rams and 49ers.
The Seahawks looked like Super Bowl contenders only once this season, during our road win over New England. We started a robust 7-2-1, but then faded to an anemic 3-3 after Thanksgiving.
Still, ten wins is a real achievement any year, and anything can happen in the postseason. The Lions are an even worse road team (3-5) than Seattle (3-4-1). Moreover, Detroit ended the season with a three-game losing streak, so they're stumbling into the playoffs worse than we are. With the deafening roar of the 12s behind us, the Seahawks need to exorcise the demons of our home loss to Arizona and savage the injury-wracked Lions without mercy.
Finally, apologies to any loyal readers for going AWOL for most of 2016. Life got busy, and what little time I could spare for writing I spent
writing about history and current events
, mostly in a failed effort to avert the tragic onset of the Fourth Reich.